BESIDES THE RELAX? YOU DISCOVER THE STREET THAT DOES FOR YOU

The Outskirts
Costigliole Saluzzo is situated in an enviable position, that allows the visitor to choose between a brief permanence or average without the fear to annoy him. To few kilometers, absolutely not to lose, Saluzzo rises, rich of historical and architectural suggestions of tall profile and center of a show of antiquariato of international importance. A visit the Castle of Manta is worth, as don't disappoint the runs pre-montani and montani of the valleys Varaita, Po, Bronda and Infernotto, with the possibility to visit the sources of the ancient Eridano, the thermal baths of Vinadio and Valdieri, the beautiful suburb of Sampeyre and the Sanctuary of Casteldelfino. But they are near also Dawn and the sweet hills of the Langhes, with their enchanting landscapes and their tastes unique enogastronomici to the world. They are comfortably able finally to reach for a trip in day the chief towns of Wedge, Asti and Turin with their extraordinary artistic wealths. Of great merit also the Castle of Racconigi, imposing residence Sabauda, surrounded by a marvelous park where the storks nest.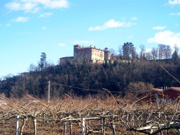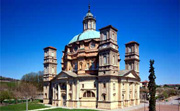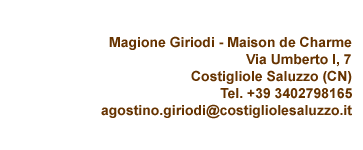 The Itineraries

Do you look for the pleasures of the good table? Do you need a moment of peace? Do you want to plunge you in the green or in the charm of the past? Here near you can find all that that desire.
Here are some suggestions of ours for unforgettable itineraries in the outskirts of Costigliole Saluzzo.


Proposal 1 –
Proposal 2 –
Proposal 3 –
Proposal 4 –
of nature
Proposal 5 – fun