RELAX YOU! YOU ENTER TO THE MANSION GIRIODI

To cross a threshold and to stop the time is the dream of many. Today it is possible to realize this desire to the Mansion Giriodi, elegant bed & breakfast to the feet of the soft hills saluzzesi.
The ingredients there are all, decidedly stimulating: an ancient noble building; a wise restructuring of the environments, that has recovered an architectural oasis returning her a fascinating and mysterious atmosphere; a family of careful managers to the care of the guest; you elegantly furnish of epoch parish priests; and above all an extraordinary 'secret heart'.

Here all, in fact, wheel around to a garden. Not a normal hortus conclusus in which to rest body and mind from the noises and from the daily stresses but a magic place and powerfully therapeutic. Separated by tall boundaries by to flow rapid of the time, from the sounds of the traffic and the modernity, you will find in fact a vineyard: great, to give comfort to the eye; ordinate, to give peace to the mind; and continually in to become, to give emotions to the senses in every instant of the day, following the to flow slow of the seasons.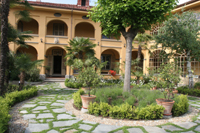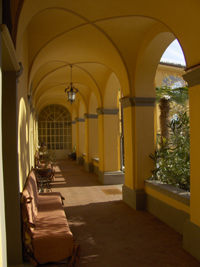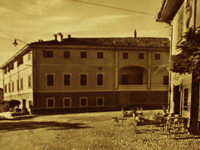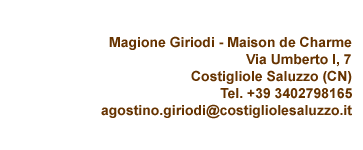 To the Mansion Giriodi you can park the auto in the devoted place, to cross the portoncino of entry and to leave to conduct you from the landlord to live an experience unique arcadica, in once
and in a space livable. And if you are curious, after having rested among ancient sheets, and tasted at breakfast legendary jams, prepared by the wise hands of grannies that guard secular traditions, you can travel between past and present following the suggestions and the suggestions that Agostino will propose you to visit the outskirts.
To the Mansion Giriodi he comes for making some good, to recover the natural breath of the day, for riassaporare the pleasure of the silences, of the perfumes, to nearly satisfy the sight with a boundless range of colors, to cuddle him in rooms elegantly furnished.

To the Mansion Giriodi authentically cohabit with discretion a solid ancient architecture and a rural atmosphere. To the Mansion Giriodis are tasted and local products can be purchased, wisely realized, appreciated by generations, checked and selected. To the Mansion Giriodi he sojourns in
every season: among the spring flowerings of the orchards of the saluzzese, among the autumn mists of the vineyards, in the sun in the summer and among the winter snows, ideal point of departure for naturalistic trips among the suggestive alpine valleys to the feet of the Monviso and cultural runs, to the discovery of the ancient suburbs and handicraft workmanships of merit.
The quality of the service is priceless, offered in discreet way and often magically invisible.